Viadux One of Europe's most complex builds
Property developer Salboy is working on the luxury development Viadux. The five-star apartments will redefine modern living in Central Manchester.
North West property developer bringing luxury to Central Manchester
Property developer Salboy is working on the luxury development Viadux. The five-star apartments will redefine modern living in Central Manchester.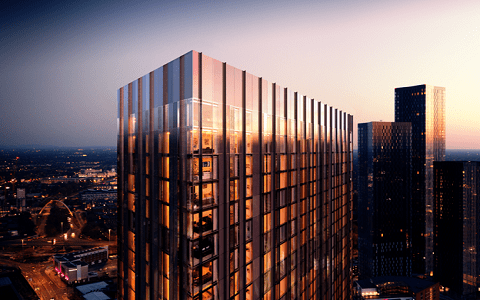 The vast Victorian arches under Manchester Central are being converted into luxurious facilities to serve Viadux, Manchester's newest residential tower under construction. New images have just been released by developer Salboy showing how the arches will be used to create a state of the art amenities, including a swimming pool and spa, atmospheric bar lounge and a residents entrance lobby complete with a giant aquarium.
A massive engineering project is currently going on underground in preparation for constructing the residential tower that will rise up to 40 storeys and office building.
The flagship mixed-use development is at the centre of Manchester's new skyscraper cluster in the heart of the city centre. Standing proudly above Deansgate and Castlefield Locks, Viadux is connected to the iconic former railway station, Manchester Central, and sits adjacent to the Manchester Central Conference.
This exclusive development combines Manchester's industrious past with decadent modern city living. Viadux will have 375 luxury apartments, of one and two bedrooms, spread across 40-storeys and an office tower with 240,000 sq ft of Grade A commercial space. Landscaped gardens will link these two towers. This unique development offers the best view of Manchester's growing skyline and access to exclusive amenities.
Under Manchester Central, the Victorian arches are being transformed into luxurious facilities for Viadux residents. This includes a swimming pool, spa and atmospheric bar lounge in the Grade II Listed brickwork canopies. Residents will also enjoy access to private dining, a karaoke bar and a gym as the development redefines what modern city-centre living can be.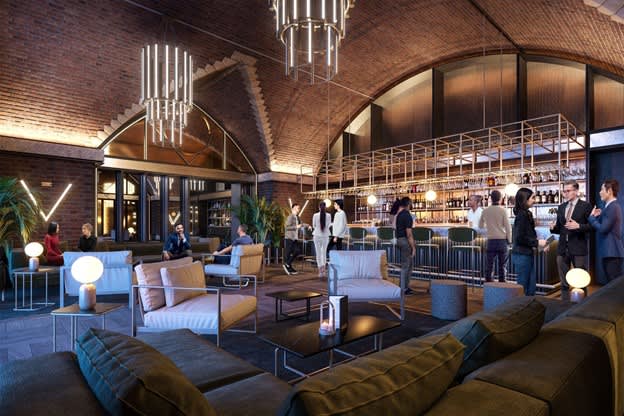 Making an entrance
Through the Grade II Listed arches, a new active frontage will be created, transforming the site and breathing new life into the historic viaduct. Casting your gaze past the attentive concierge in the residents lobby, you'll be greeted by a magnificent floor to ceiling aquarium, creating a wall of water and vibrant colour beneath the arches.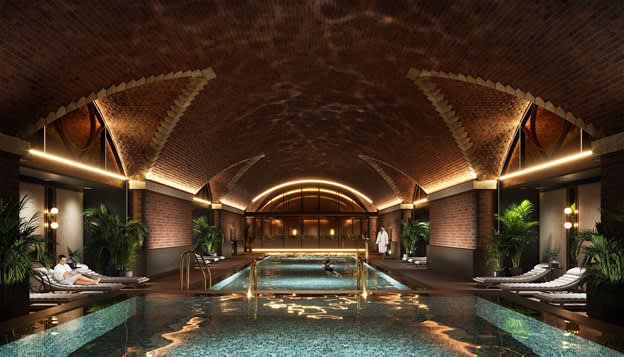 Immersed in heritage
Take a dip between the vaunted Grade II listed brickwork canopies and relax in the heated swimming pool and sauna facilities. A one of a kind exclusive experience like no other.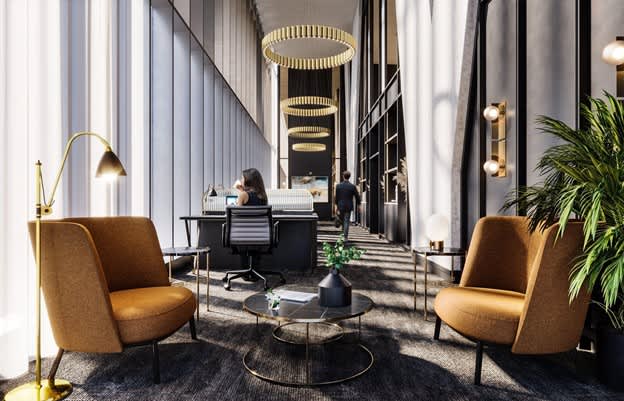 Work from Viadux
Flexible workspaces for residents to collaborate, meet, think and do. Or get some headspace. Surrounded by public spaces, seamlessly creating smooth access for passengers coming into Deansgate -Castlefield, introducing landscaping, stairs and a bold, spacious new frontage to welcome residents and visitors.
The masterpiece
The historic site was once home to the 1st-century Roman settlement and the Grade II listed Victorian arches, which formally served as the train line into Manchester Central Station. It has presented some unique engineering and architectural challenges, making it one of the most challenging builds in Europe at this time. This is especially due to its position in the heart of the Manchester city centre's busiest districts and transport hubs.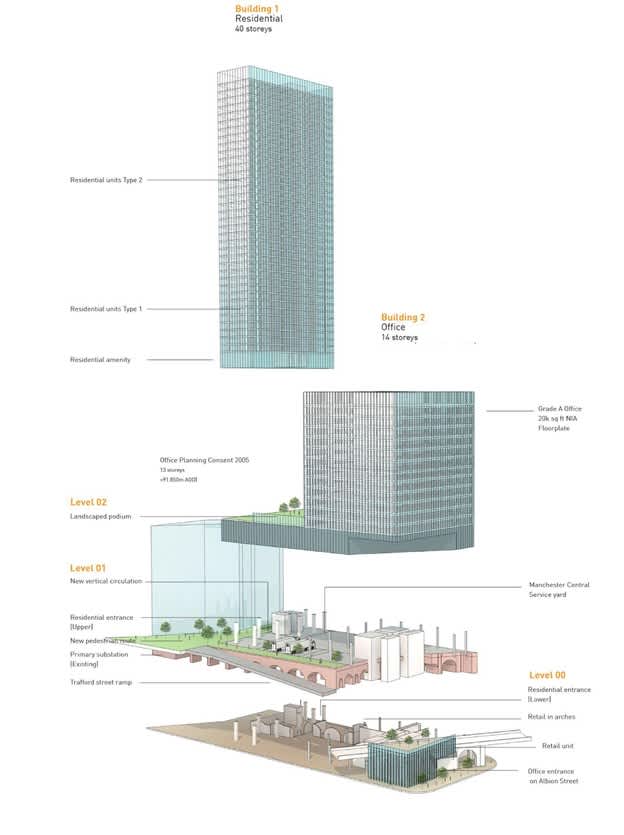 The superstructure will rise from the foundations on reinforced columns independently of the Grade II listed victorian brickworks. Rising above the Manchester Conference Complex service yard and the metro line will remain active and used during construction.
Landscaped gardens will link the two towers, and a new staircase and lift access from Great Bridgewater Street to the Deansgate / Castlefield Metrolink stop is also already under construction.
Viadux has been designed by SimpsonHaugh Architects with Renaissance employed as engineers. Interior design by Lister&Lister. Visualizations by OurStudio.
The development is on schedule to complete in summer 2024, and around 350 operatives and management are expected to be employed on the project by early 2022.
A unique opportunity in the heart of Manchester's new skyscraper cluster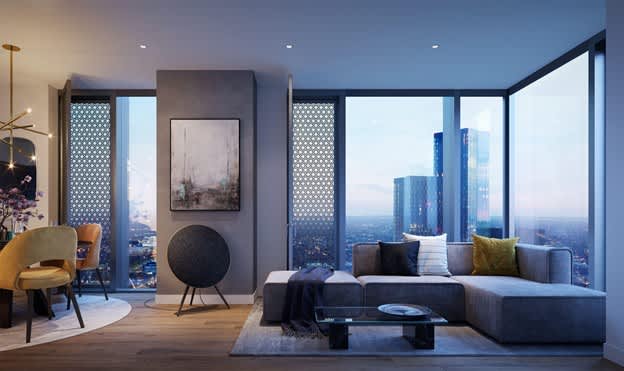 Viadux will provide 375 luxury apartments, with either one or two bedrooms, and residents will be able to enjoy a private gym and treatment rooms, private dining and a karaoke bar, and the spa, pool, and bar.
A limited off-plan allocation is available for a short time only, with prices starting from £265,000.
Register your interest now!