JLL European Coliving Index research estimates there are 23,150 coliving beds either built or in the development pipeline across Europe and this sector has been on the growth in the last two years.
As population growth and the availability of viable living space in our cities becomes more acute, coliving is becoming a key component of the wider suite of housing solutions to meet the changing needs of city dwellers.
Coliving provides a flexible and modern solution at a time when demands on urban land use are increasing, impacting levels of supply and affordability.
Other aspects of coliving include the fundamental changes in consumer habits and lifestyles of younger generations and seek to deliver optimised personal and shared space, whilst promoting social engagement between residents, through a community-centric and hospitality-led management structure.
Coliving Market Supply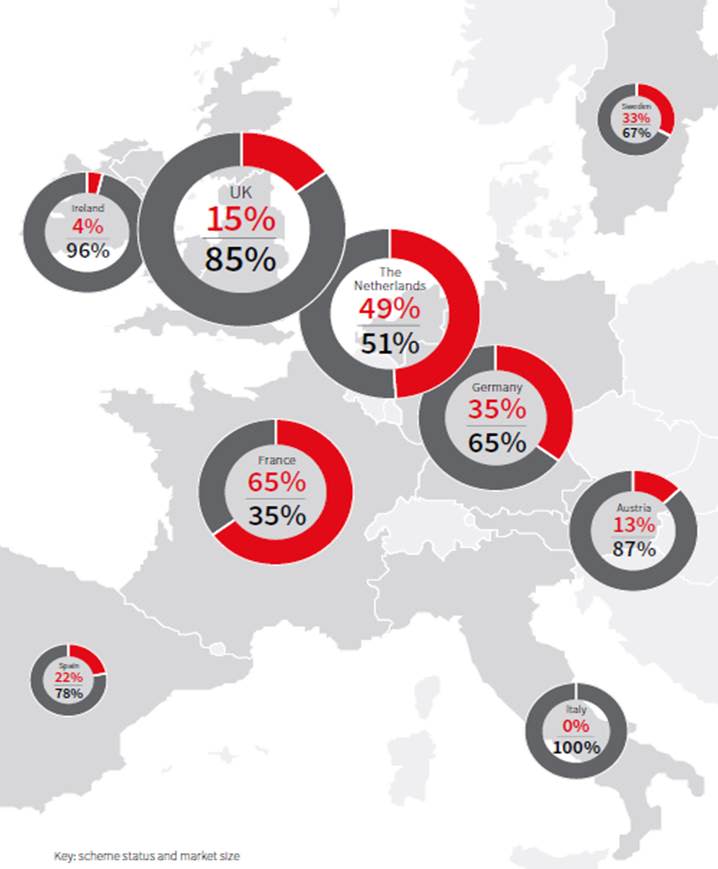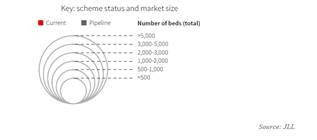 This map identifies the top coliving national markets across Europe, pinpointing key areas of growth and providing an understanding of what the sector currently looks like.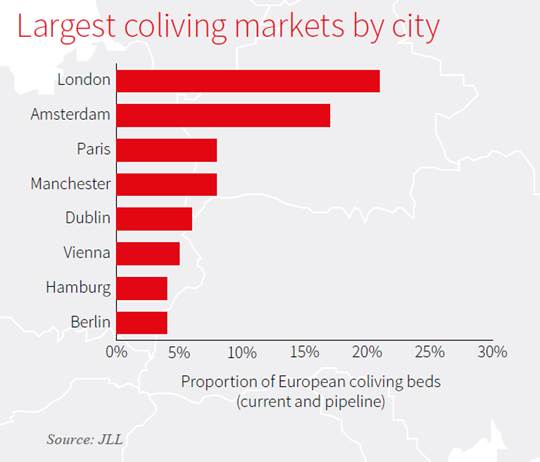 London and Amsterdam account for nearly 40% of total stocks. This is unsurprising given their global city status, young populations and dynamic property markets.
Top 10 Key Cities with Coliving Spaces
1. Amsterdam
The Dutch capital has a high proportion of single person households (47.8%), while the young population has grown by 18.5% over the last decade. Nearly 4,000 coliving beds are planned.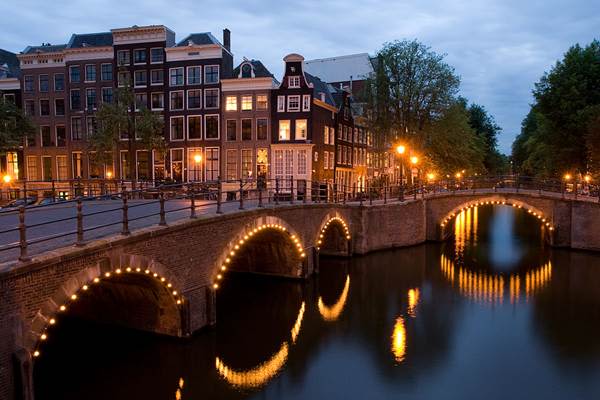 2. London
3. Copenhagen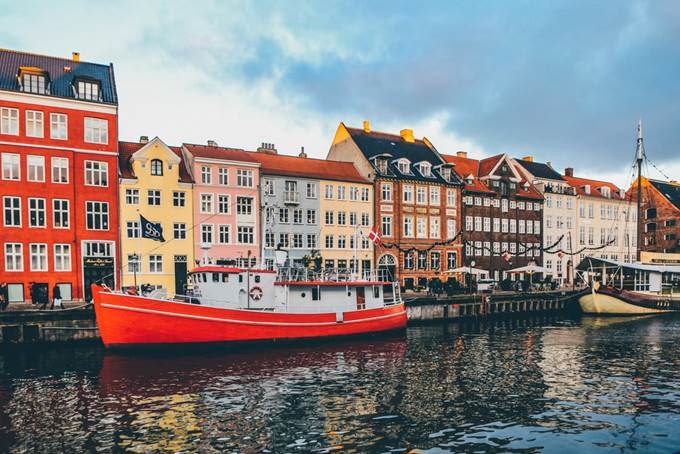 3. Paris
4. Berlin
The second lowest home ownership rate (14%) across the index and strong net migration ensure favourable conditions for coliving in the German capital. However, household formation is slower compared to other key markets.
5. Munich
6. Stockholm
7. Frankfurt
8. Vienna
9. Hamburg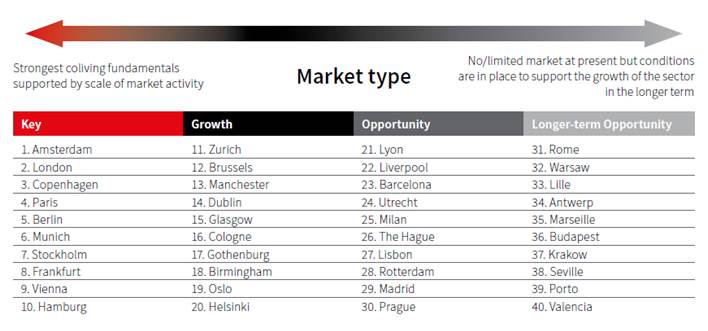 List of key markets/ cities with most to least opportunities for coliving spaces
CoLiving in the 21st Century
As the effects of urbanisation and modern-day city life become more pronounced, coliving is going to become increasingly relevant in the 21st century city.
It is not a coincidence that the markets at the top of co-living index are those where housing pressures are greatest.
Therefore, despite the nascent nature of coliving, it is set to have a major impact on city living.
The coliving market is being driven by consumer demand, and in an era of free movement, globalisation, technological advancement and greater social mobility, flexibility is an essential component of living.
Hence, European cities of the future will be measured by sustainability, flexibility and liveability.
Coliving provides a natural progression in housing solutions not just for present residents, but for future generations.
For more information on European investment opportunities and its coliving spaces, you may contact JLL International Residential at +603 2260 0700 or wong.christine@ap.jll.com.