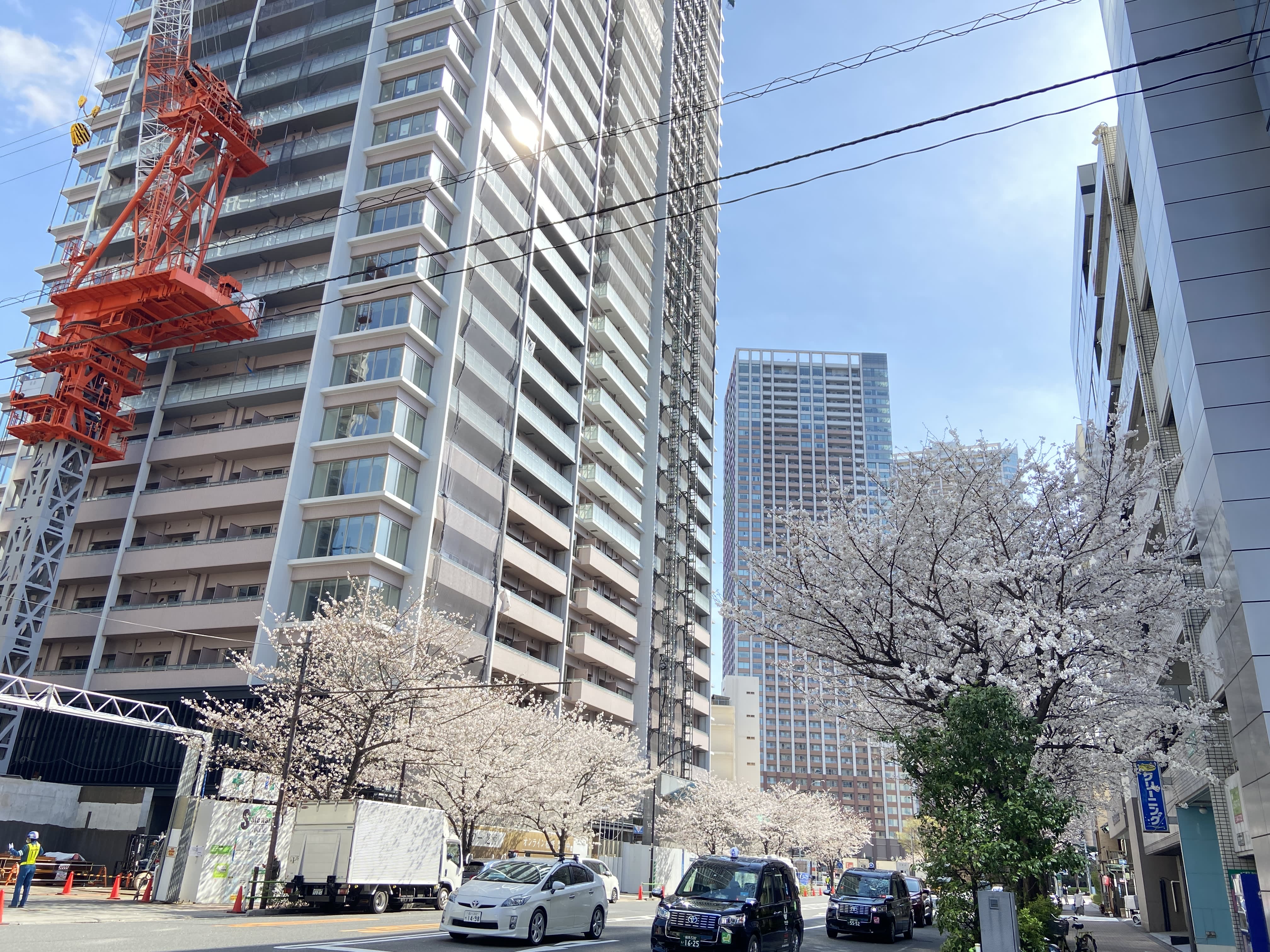 Where to buy a property in central Tokyo? Our pick: the Tokyo Bay area – Shibaura. Read more to find out!
Tokyo is one of Asia's most exciting and dynamic cities, and home to 14 million people. As the capital of Japan, it is the economic and political heart of the country. And it is also hosting the delayed 2020 summer Olympic games this year.
With such strong fundamentals, it comes as no surprise that demand for real estate in Tokyo remains bullish.
High-rise condominiums are extremely popular in Tokyo where buyer activity has been relatively unaffected by the Covid-19 pandemic. Low interest rates and tax breaks have helped sustain property demand during this period.
Contrary to the trend in major cities where there was an exodus to the suburbs during the pandemic, Tokyo has seen the reverse, with an increased demand for new developments in central locations as people look to reduce their commuting times.
In summary, Tokyo boasts a resilient and healthy property market.
Beautiful neighbourhood of Shibaura
Located in the Minato ward in the south of Tokyo is Shibaura, a beautiful neighbourhood located between the eastern side of the Yamanote Line train and Tokyo Bay.
Why did we choose this area for property investment?
Continue reading!
'Shibaura' has great investment potential and is expected to see further growth due to multiple ongoing redevelopment projects. It is also a beautiful and enjoyable place to live in with the stunning Rainbow Bridge, scenic canals, and a futuristic cityscape.
It is also well connected, being close to the busy Yamanote Line and the Mita subway station.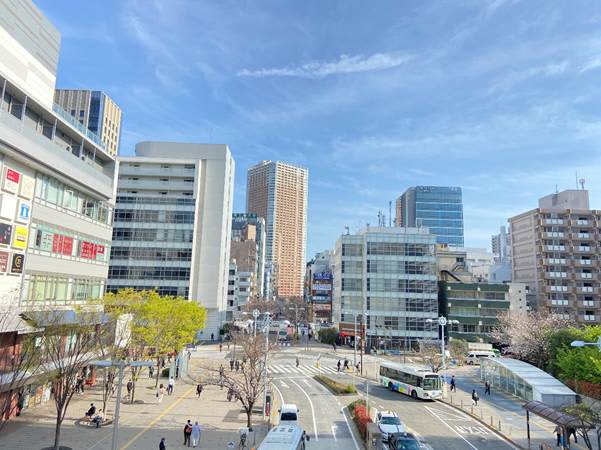 View from Tamachi Station
The famous "Keio University", a leader in education, research and medicine, is near Mita Station, making it popular with university students.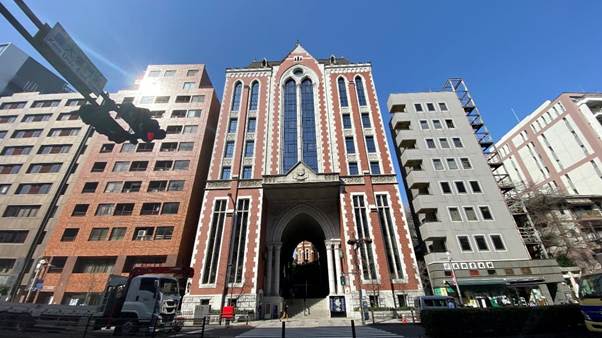 Keio University
Shibaura consists mostly of artificial islands created by the excavation of industrial canals in the early 20th century. It was developed into a residential and commercial area as early as the early 2000s, and many corporate headquarters are now located at the area.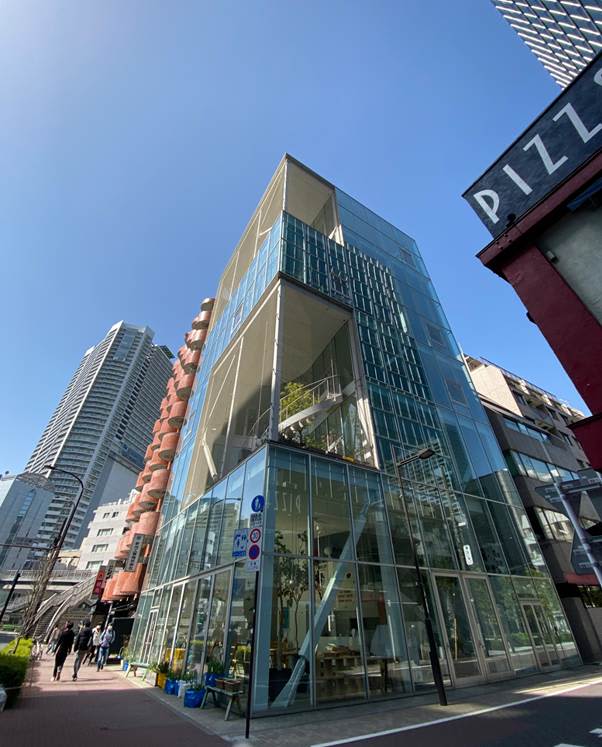 Shibaura House
The thriving community has excellent living facilities including parks, schools and supermarkets. As a result, the bay area is now very popular with middle-, and upper middle-class buyers and renters.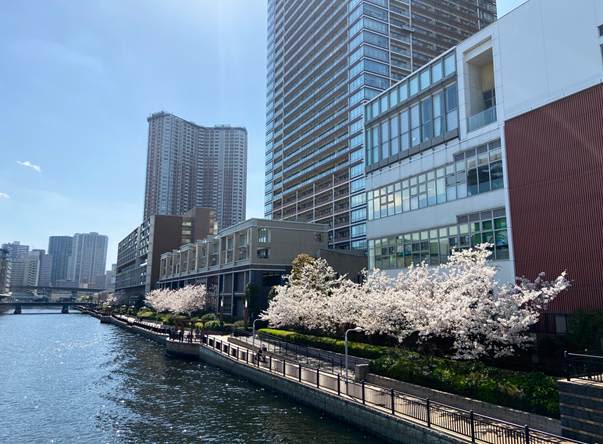 Canal side
End of the Rainbow
Nearby, and adding to the district's attractiveness, is the symbol of Tokyo Bay - Rainbow Bridge, a suspension bridge crossing the northern part of the Bay. It is located between Shibaura Pier and the Odaiba waterfront development in Minato.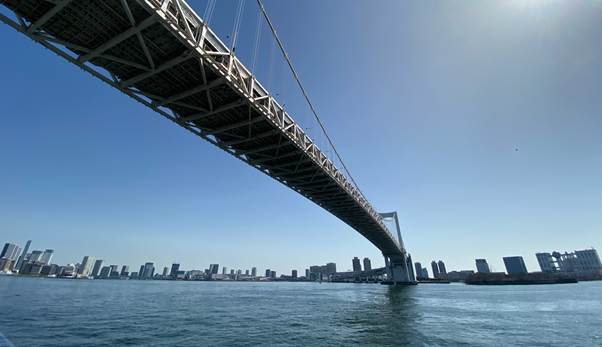 Rainbow Bridge
Conveniently located along the road from Tamachi station to the Rainbow bridge is a vibrant scene of supermarkets, restaurants, and stores. Residents and visitors enjoy the attraction of the Shibaura Canal Festival every September and the beautiful blossoms of sakura flowers in Spring.
Shibaura South Port Park is a scenic marine park under the Rainbow Bridge, which can be enjoyed during the day or night. This is where many Tokyo residents come to enjoy the first sunrise of the new year on January 1 and the park has open spaces, benches and a sports plaza where you can play baseball and football.
Park (under the bridge)
Investment opportunity: Branz Tower Shibaura
Within this bustling and exciting district, Tokyu Land Corporation has developed
Branz Tower Shibaura, a high-end residential building located in Minato-ku.
Situated in the center of Tokyo, the development allows residents to gain easy access to vibrant Shibuya, Ginza Shopping area and Otemachi, Shinbashi Office area.
The freehold development consists of 32 floors and 482 exclusive apartments. The tower is also equipped with impressive facilities for residents including a crown terrace, crown lounge, fitness studio and guest rooms.
With these facilities and its excellent location in one of Tokyo's up-and-coming districts, Branz Tower Shibaura is sure to be a highly sought-after private residence this year.
And with Tokyo back on the global stage again this year as it hosts the summer Olympics, the timing couldn't be better.
To find out more about this exciting development join our live webinar
'Let's Talk Property: Spotlight on Tokyo' on Thursday, 15 April 2021 at 6pm.
We will talk about the Tokyo property market, the impact of redevelopment in Shibaura and also introduce Branz Tower Shibaura to the Singaporean investors.
For more information, please contact:
Christine Wong (REN06667)
M: +6012 908 6318