Southall Waterside: West London's newest vibrant village
Berkeley Group's GBP1 billion redevelopment project will benefit from easy access to Heathrow, Canary Wharf, the City of London, and the soon-to-open Elizabeth Line Crossrail. Property prices have already risen by 66% within a mile of Crossrail stations.
The London property market is starting to pick up steam after months of uncertainty due to the current health crisis.
Research from Jones Lang LaSalle (JLL) forecasts an upward trend in London's housing market in the next four years. While sales remain subdued currently, there are signs of growing sales activity since the market reopened, says Widya Lesta, head of international residential at JLL. "With recovery in transaction volume, we should expect prices to increase in London by the middle of next year. It is already deemed the best performing real estate market in the UK."
While most buyers rush to inner London for bargain properties, savvy investors know that lucrative investments lie in outer regions — where massive regeneration projects are underway in conjunction with the opening of the Crossrail.
One example is Southall in West London which is enjoying a sustainable growth f0r the last five years. For instance, the average price of a property sold at Southall was GBP298,715 back in 2015. Fast forward to March 2019, the average sold price soared to GBP397,354 ($697,500) — a 33% jump from in four years.
Over the corresponding period, the average house price in London increased 14% from GBP402,898 to GBP459,800.
In just the last 12 months, average prices of houses sold in Southall increased 4.07%. And with the arrival of the Crossrail later this year, anticipation is running high as the Berkeley Group spearheads one of the most ambitious redevelopment schemes this side of London: Southall Waterside.
Image: Berkeley Group
It is Berkeley's most ambitious regeneration program to turn an 88-acre (35.6ha) former gasworks into a luxury complex with 3,750 residences. It will have generous green spaces and a vibrant community when completed.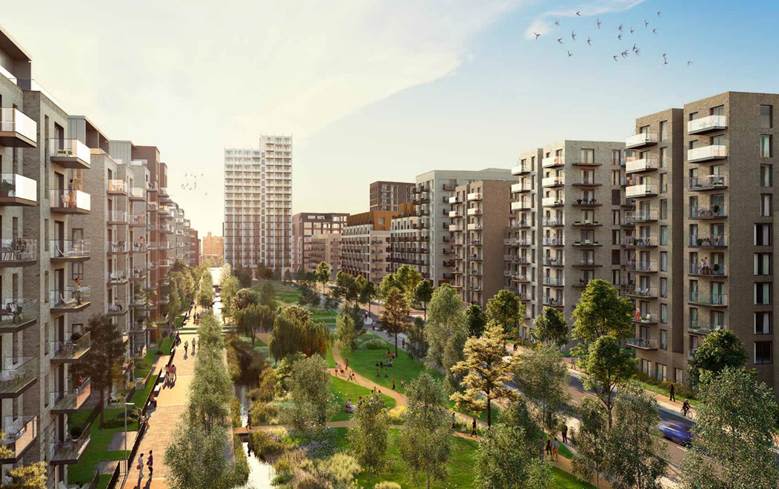 Photo: Southall Waterside, day view (computer generated image is indicative only)
Berkeley Group's regeneration projects: 10 years of unprecedented success
Being one of the pioneers in the residential and luxury rental sector, Berkeley Group has achieved success over the past 10 years by turning tracts of idle land into real estate hotspots. "We specialise in regenerating these areas," says Rob Willis, Business Development Manager for Berkeley Group Singapore. "And what we have seen is that time and time again, regeneration has had a positive impact on capital values."
Willis points to Berkeley Group's Royal Arsenal Riverside as an example. Prices were at GBP250 psf in 2010, and now 10 years later, it is closer to GBP1,000 psf.
The same can be said about Woodberry Down: A one-bedroom apartment priced at GBP275,000 in 2012 was commanding up to GBP540,000 in 2018 — "a 96% increase in just six years", says Willis.
Kidbrooke Village in Greenwich is another example. A studio or "Manhattan suite" that cost GBP262,000 in 2010, fetched a price of GBP350,000 by 2018.
"These examples show how regenerating a place increases its value, regardless of market conditions," says Willis.
Chart 1. Where regeneration by Berkeley has driven capital values (Royal Arsenal Riverside).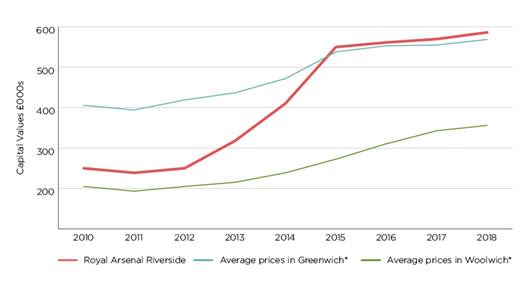 Chart 2. Historic price growth for a 1-bedroom apartment (Woodberry Down)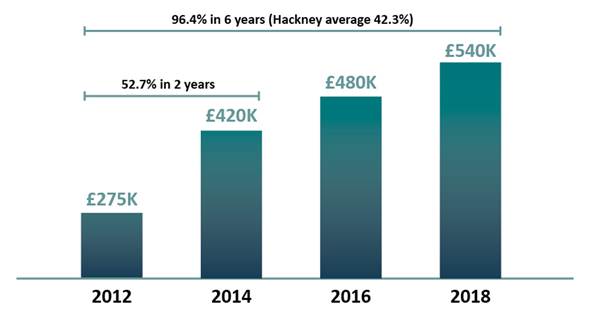 Chart 3. Where regeneration by Berkeley has driven capital values (Kidbrooke Village)

One of the latest projects offshore property investors should focus on is Southall Waterside, Berkeley's most ambitious regeneration program that will turn an 88-acre gasworks into a luxury complex that houses 3,750 residences.
Your doorway to the capital and the rest of the UK
Southall Waterside conveniently sits between Heathrow and the West End. It provides fantastic access to the whole of London in the East and to the rest of the UK in the West.
"One of the key offerings of Southall is accessibility across London, and also out into the West of the UK," says Willis. "This will be further enhanced by the opening of Crossrail next year. This means you can be located in Southall, but be in Paddington, Zone 1, in just 14 minutes."
Furthermore, the project is at the epicenter of London's international business scene — making it attractive to professionals who wish to stay close to their place of work or business. The headquarters of blue-chip companies such as Microsoft, Visa and Vodafone are just 14 minutes away by Crossrail.
The headquarters of other multinational firms such as Facebook, Google and Regus are only 19 minutes from Southall via Tottenham Court Road.
Of course, there's Canary Wharf, London's business hub, which is only 31 minutes away.
"By car, you can get to Stockley Park in just 23 minutes, where you can find big-name tech brands like Apple, Toshiba, Canon, and Sharp," adds Willis.
He sees Southall Waterside "in high demand" from employees and students throughout London and the UK.
A promising long-term investment
When it comes to opportunities, Southall Waterside offers a promising capital growth — similar to the previous Berkeley regeneration projects.
"A regeneration project like this offers a fantastic chance to invest because you can then grow with the development as it becomes one of the key villages in West London," Willis comments.
According to him, property owners who wish to rent out their investment property may expect rental returns of around 4.4% to 4.7%, which is a competitive rate for such a location.
In addition, Southall Waterside will benefit from the massive GBP1.9 million investment in infrastructural works from roads, public spaces and improvements to the Crossrail station at Southall that will provide easy access to London's top business and employment destinations.
Exclusive residence with world-class amenities
In terms of facilities, Southall Waterside will offer the same services found in Berkeley's Zone 1 and Zone 2 developments.
There will be a residents-only lounge suitable for work-from-home renters, a luxury spa, gym, 24-hour concierge, an electric car charging station and a cycle store.
Southall Waterside will also feature a 1.2km frontage along the Grand Union Canal, including a canal-side community facility where people can meet and dine at their leisure.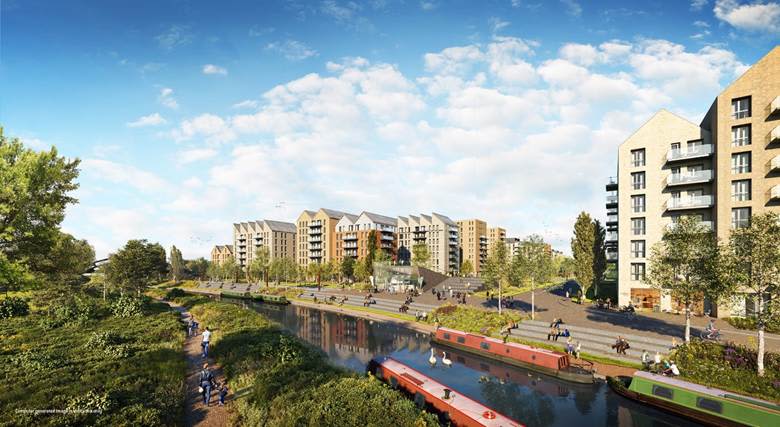 Photo: Canalside view (computer generated image is indicative only)
Meanwhile, the interiors are provided with topnotch fixtures and fittings that are integrated within the development and built to work from Day 1. In other words, investors can essentially rent out their units right away.
Southall Waterside will comprise suites, one-, two-, and three-bedroom apartments that offer spacious living. For example, a Manhattan suite has a total living area of 500 sq ft, which is ideal for a studio sized apartment.
A two-bedroom apartment has an equally large living area and bedrooms, making them appealing to prospective renters. Even the one-bedroom units offer plenty of space in terms of working and living area.
Lastly, investors will receive a 10-year warranty and a two-year policy with a Customer Service on hand 24 hours a day to deal with inquiries.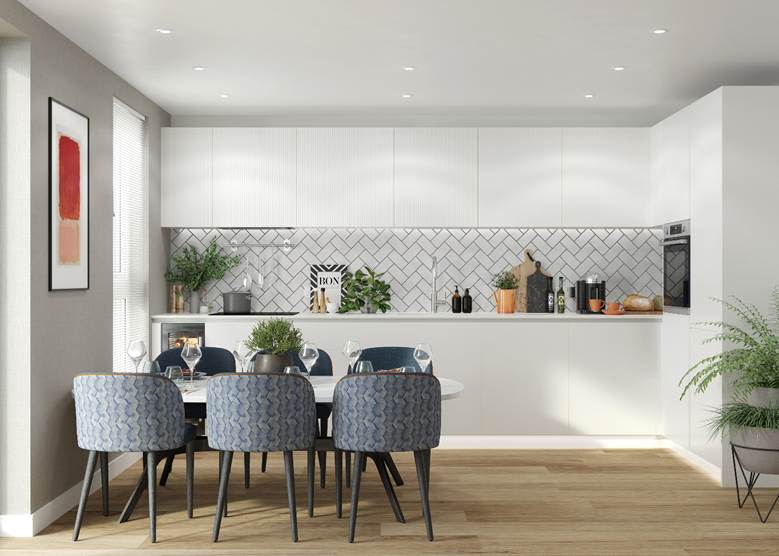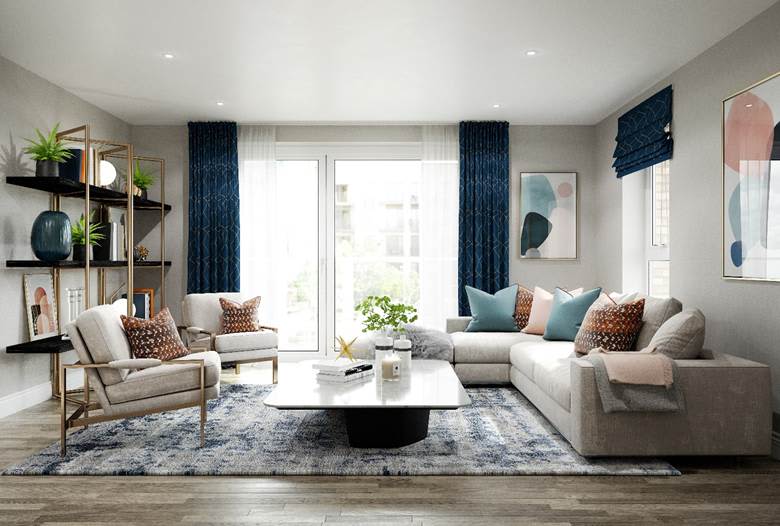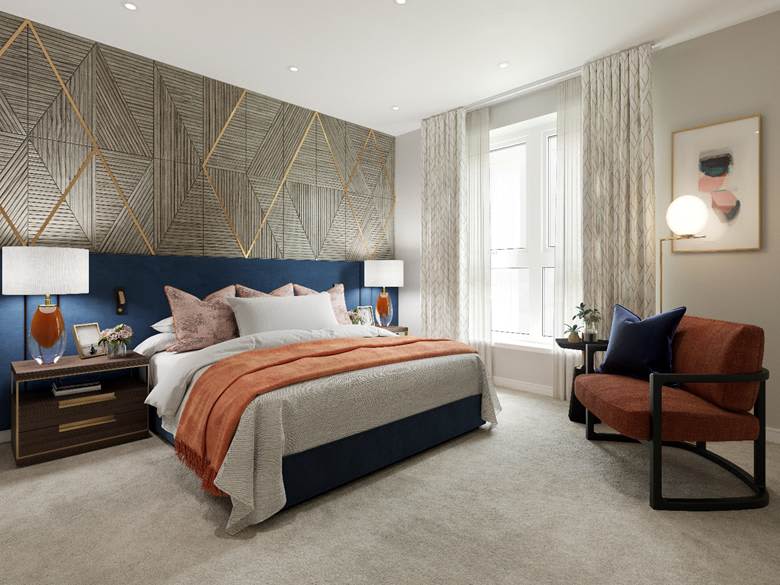 Photo: Interior (computer generated image is indicative only)
Find out more at the Southall Waterside launch
Phase 1 of the project is well underway, and judging by its UK release, it will be just a matter of time before all the units are taken up.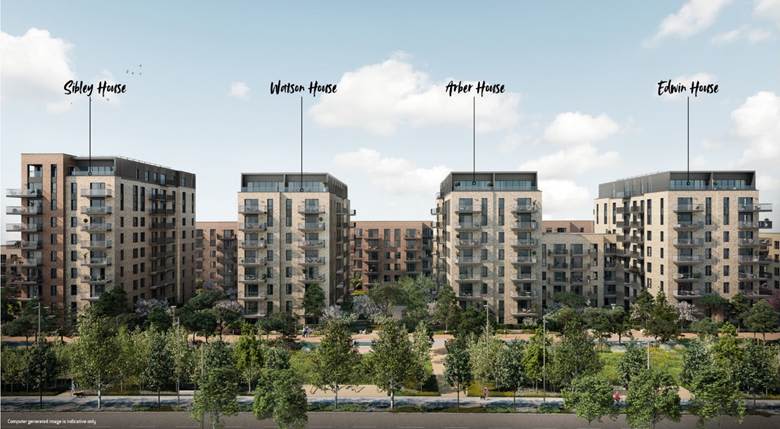 Photo: Interior (computer generated image is indicative only)
JLL Malaysia is inviting serious property buyers to make a grab for this latest project while slots are still available.
For more details about Southall Waterside, you may book for their live events or one-on-one meetings on the following dates and times:
DATE: Sunday 26th July 2020
TIME: 10am–6pm
PLACE: Parkview 1, Level 2, Mandarin Oriental Hotel, Kuala Lumpur
Strictly by appointment only. To register, please contact:
Christine Wong (REN06667)
M +6012 908 6318