London property showcases its resilience amid pandemic
The residential leasing market in London is starting to show signs of bottoming out six weeks after lockdown measures came into effect on March 23, says Lucy Morton, Head of Residential Agency at JLL London.
Property investors can still pick up new residential real estate off-plan despite the social distancing measures, says Sam Molloy, Partner at PCB Lawyers in London. He adds that next year's changes to the Stamp Duty Land Tax (SDLT) for foreign buyers will also be lower than originally forecasted.
The two real estate experts gave updates on London's property market during a webinar hosted by JLL on April 30. They were joined by Louis Goldney Sidley, Director of Client Services at JLL London, and Widya Lestaluhu, Head of International Residential at JLL Singapore.
Rental market bottoms out
Despite the immediate slowdown in London's rental market on March 23, the market started the year on strong footing, says Morton.
"The market was buoyed by the election of a strong Conservative government. Investors have been putting off purchases for the past three years while Brexit negotiations were on-going, resulting in a considerable amount of pent-up demand. A relatively weaker Pound also encouraged investment to flow into London," she says.
There is now an emerging generation of young people who prefer to rent and are holding off their first property purchase. The average age of first-time home buyers in London is about 40-years old. They also prefer to live in cities and towns.
About 2.5 million more people will move into UK cities by 2024, and London's population is expected to grow by 1 million over the next decade, says Morton.
She adds that there is also an under-supply of new residential homes being delivered by the residential construction industry and as a result, housing supply in London is not keeping pace with demand.
In addition, the supply of rental housing in London has fallen sharply over the past six weeks as tenants stay put in their properties. According to Morton, this is good news for landlords as less supply is likely to help drive prices up.
Stamp Duty changes take effect next year
It is also the best time for savvy foreign investors to cash in on London's rental housing market, says Molloy of PCB Lawyers.
On March 11 this year, the UK government announced that its planned changes to the SDLT for foreign buyers would only come into effect in April next year. The 2% surcharge is also less than what most market watchers expected, says Molloy. He adds that "this relatively low figure maintains London's status as a highly competitive property market."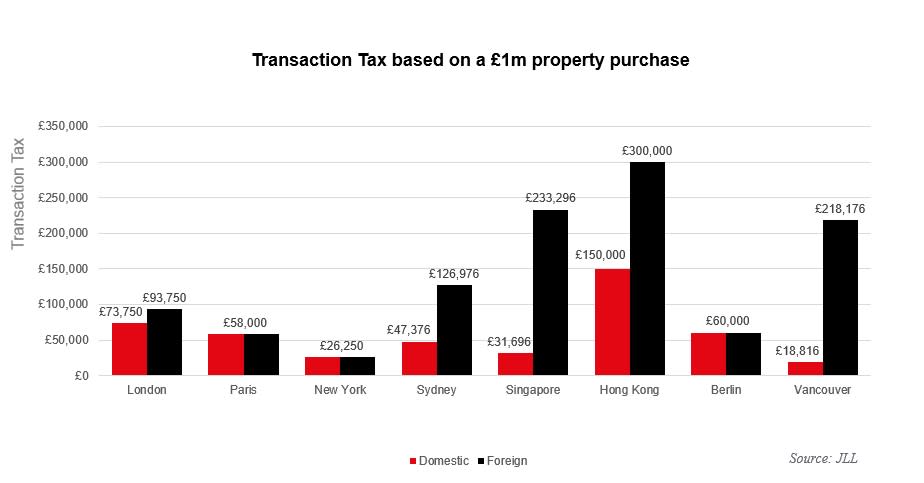 Since it will only come into effect next year, this gives more time for investors to secure deals without incurring the new surcharge.
The year-long run up to the effective date of the tax will likely stimulate the market, and investors are likely to focus on recently completed projects, says Molloy.
"This is advantageous for buyers since a completed unit enables investors to capitalise on the relatively weaker pound now, not just on the currency exchange but also on the completion money you end up paying as well. Investors will also start getting use out of the property immediately, whether for own use or to generate an income from the letting," says Molloy.
He also adds that opportunistic buyers may even snap up some bargains during this period from developers who are keen to close deals, thus creating a favourable buyers' market.
Investors can tap on JLL to secure rental deals. The agency has closed more than 100 leasing deals over the past six weeks. It has supported many clients with virtual tours and videos of its stock of properties.
According to Morton, "when the lockdown measures are eventually lifted, we expect to see a large pent up demand for rental housing and increased activity in the rental market. The spike in inquiries already started over the weekend of April 25," she says.
Spotlight on Nine Elms and Canary Wharf
As a leading realtor in London, JLL highlighted two neighbourhoods in London where property investors could choose to focus on, namely Nine Elms and Canary Wharf, says Sidley, JLL's Director of Client Services.
In Nine Elms, the completion of the Battersea Power Station shopping mall will be the third largest retail destination in Central London.
Next year, two new tube stations on the Northern Line are expected to open and will enhance the transport connectivity of the area.
Overall, the resident population in the neighbourhood is expected to increase by more than 10,000 people over the next five years. The current demographic is also primarily affluent professionals with high rental budgets.
"Residential property sales are forecast to climb by 19% over the next five years, with 18% rental demand growth over the same period," says Sidley.
Over at Canary Wharf, "the rejuvenated area reminds me of Singapore, in that it is a clean, safe, and green area within London," says Sidney.
The area houses 120,000 workers and features 16 million sq ft of prime office space. "Canary Wharf is a vibrant, mixed-use neighbourhood within Central London," says Sidley.
The lockdown is also encouraging some people to reconsider their preference to rent closer to their workplace. However, competition for quality apartments is high, with the average vacancy period close to zero according to Sidley. He adds that peak rental demand could clock in next year with the completion of the Crossrail Line.
For more information on investing in London, please contact JLL International Residential at +6012 908 6318 or wong.christine@ap.jll.com